Stump Grinding Minneapolis Minnesota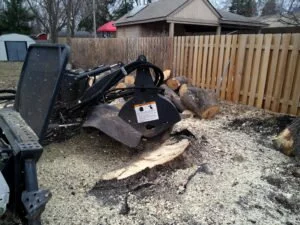 Well, the tree is gone, but now what? You can call the experts at Treemendous Tree Care for your stump grinding needs in Minneapolis! Whether you took care of it yourself or had another company remove the tree from your property, our heavy-duty, specialized equipment is capable of taking out the toughest of stumps. Having the proper machinery will increase the time it takes spent busting backs. When it comes to professional stump grinding services stick with us and your eyesore will be no more!
Benefits of Stump Grinding & Removal
Tripping Hazard- When Johnny is running after a fly ball, or chasing a grasshopper there should be no worry that a cracked skull or a nice whack on the shin would happen. Right? Get rid of that ugly stump and your property will be lawsuit-proof and safe for all the neighborhood kids, including your own!
Grounds for Infestation- Stumps are an attraction for invasive species such as termites, snakes, bees, hornets, spiders, just about everything that will hurt, well anyone. Sure you can keep having professional contractors spraying the toe grabber for insects but the fact is, you need to get to the root of the problem. Where are they going to go when they leave the stump? You have a lot of house next to your urban forestry. It is grounds for invasion! Don't let it come to that and remove it now.
Eyesore- Let's face it, they are never a welcoming sight. Great for Halloween but it definitely doesn't add to your curb appeal. It is usually quite ugly.
Unwanted Obstruction- Roots and stumps make mowing a hassle and extending your garden nearly impossible.
Contact Us for an Estimate
The only good that can become of a stump is a base for yard-ball. You, as the homeowner, need to weigh out your options. Pay the $5 for plastic bases, or create your own little pest paradise every time for when little Suzie slides into second. Seriously, there is not valid reasoning for keeping something so possible of destruction upon your plotted land. Utilize our advanced stump grinding expertise and let us help create a nicer looking area of growth for grass, a garden, a new tree, etc.. For a professional opinion on an advanced task, give us a call Treemendous Tree Care. Your local stump grinding and tree removal company near Minneapolis, 763-772-4736!
Save
Save
Save
Save
Save