St. Paul Tree Removal Contractor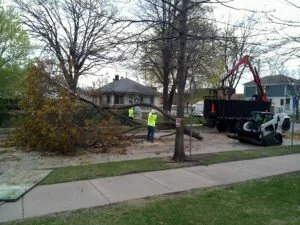 Looking for a St. Paul tree removal contractor? Treemendous Tree Care can help! We have been serving our St. Paul neighbors arboriculture services for years now. From tree planting, trimming, to stump grinding and tree removal. Our top notch services will make your property look fantastic at all times. Limiting the chances of accidents, like trees crashing into objects or structures will also give you piece of mind knowing all of your property is safe. Give us a call today to speak to an insured St. Paul tree removal contractor!
Licensed St. Paul Tree Removal Contractor
Having a licensed St. Paul tree removal contractor come to your home for an estimate is easy as pick up the phone, call, and we will be over! Our certified arborists and qualified crew members chose this career path for themselves. Having a qualified team removing your damaged trees will give you more time to enjoy the activities you like to. Our lives are based around arboriculture, with thousands of hours under our belts, your tree could be gone within minutes! When you want things done right, call the professionals!
After Tree Removal Services
Commonly, there is a reason for tree removal services, such as, dying, infected, storm damage, the list goes on. After all the bark is gone, it may pay off for you as the property owner to have an idea if there are any threatening diseases. Maybe check for signs that there is an insect infestation or if there is a chance of any trees falling soon. Being ahead of the game keeps the pocketbook heavy and the stress super light. Our International Society of Arboriculture certified arborist can help identify the specific species and all of its information. Keep an eye on your trees, give us a call for a professional opinion!
Contact The Treefessionals
Our services are provided by highly trained and motivated employees. Treemendous Tree Care is the one stop shop for all of your arboriculture needs. With every branch needing tree trimming, disease or insect infested trunk  injections – having the best tree care and tree removal company in St. Paul will help you. For an estimate on tree removal services, give us a call 763-772-4736!
Save
Save