St. Paul MN Tree Removal Service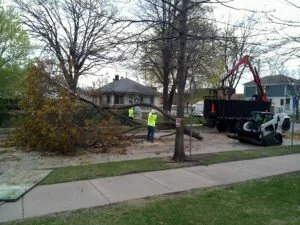 Having to find a qualified, trusted, and insured tree removal company in St. Paul, MN doesn't have to be a chore or hassle anymore! Here at Treemendous Tree Care we are everything that you need, whether it's planting or stump grinding, our services are always top notch! We have gone to great lengths to become educated and receive the proper certifications from the International Society of Arboriculture as arborists and tree workers. We have many after hours dedicated to our career and can offer you professional and efficient tree removal services promptly.
Why Professional Tree Removal Services in St. Paul?
There are many reasons out there to hire a family friend, Craigslist, guy on the street corner, or even removing a tree yourself. Wait, no. There is really only one true reason and that my tree dreading friends is called money. The "greenbacks" but what if money was not an issue, granted it always is but aside from money what do you get when you hire a professional tree care service contractor?
Means of Disposal- It's tough hauling and getting ride of 2,000 pounds of solid wood. Imagine something like 10 tons. Where is all of that going to go!? With us!
Insurance- Whether the tree is down, or needs to be cut. Having insurance to properly cover you or surrounding objects near by is crucial when dealing with a large moving and possibly crushing machine also known as a tree. If anything were to happen there is no sweat off your back.
Proper Equipment- Chopping up all of that timber, chipping it, stump grinding. That requires heavy equipment, gas, and experience in use. To be safe use the proper equipment with an experienced operator, which is exactly how our company does it.
Updated Mastered Knowledge (Certifications)- Having certifications is not just a piece of paper. It is enduring hours, days, nights, and spare time dedicating to one passion. Attempting to master a craft that has not yet been. Our arboriculture enjoyment shows in the amount of off-time we are actually on the clock.
When you are looking for professionalism, safe workers, and efficient at our duties involving tree removal services by St Paul, MN you have found them here at Treemendous Tree Care. Where every day we are looking to better ourselves, career, and the environment around us – one tree at a time. Give us a call here today for a visit or estimate 763-772-4736!