Brainerd Tree Removal Services MN
Heavy storms have you searching for Brainerd Tree Removal Services? Or maybe an Infected Ash has to be removed to prevent the spread of EAB? Perhaps the tree is just growing in the wrong location. Whatever the reason, Tree-Mendous Tree Service is the Professional Solution. We work hard to keep our prices reasonable and our tree services outstanding. Employed with ISA Certified team, our personal experience and skill is an important aspect we bring to every jobsite. Call or email us week days and weekends – we'll answer promptly.
Crane Work | Large Tree Removal Jobs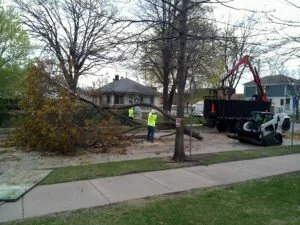 Our job demands a strategic method. Each tree removal is very different from the next. Location, size, age, species and access points all play a factor in our process of successful tree removal. This is no light task but with our years of daily experience and our heavy equipment – it is quite a show. While working on the tree removal service we also take care to not leave unsightly signs of our being here. Our machines have a large reach and we can usually extract large tree sections with its wheels on the road, instead of your yard of driveway.
Residential, Commercial & Municipal Tree Removal Services
Our Tree Removal Services are offered all around Brainerd. We can help you manage tree removal easily on any type of property. Whether it's a one-time job or you've got a lot of trees you need cleared. Our expert tree removal company guarantees you'll be relieved once we drop your tree, skillfully and efficiently.
Brainerd Tree & Stump Removal Brainerd
And let's not forget what we have left over after the tree(s) are removed. A Stump. Our Brainerd Tree Service Company also grinds stumps. If you want your whole tree(s) gone, roots and all, at an affordable price; contact Tree-Mendous Tree Service for a free estimate at (218)506-8733 or email jgulso1@gmail.com